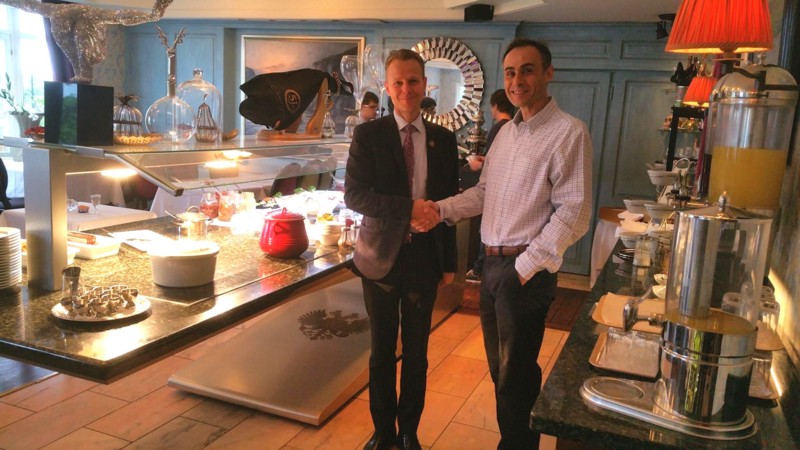 KING'S BUFFETS MEETS AND EXCEEDS EXPECTATIONS IN THE NORWEGIAN HOTEL MARKET
Today we would like to talk about some of the buffets installed in hotels and restaurants in Norway.
Last week we visited our friend and client Mr. Morten, who warmly welcomed us with his usual kindness and hospitality. We all recalled how our first contact was. He had long been searching for manufacturers of buffets both locally and internationally but could not find what he was looking for: that is, a buffet that would really cool and heat efficiently, while maintaining the optimum temperature, without having to incorporate portable or built-in elements. A mobile buffet that would comply with hygienic-sanitary standards, with a stylish design to enhance the presentation of the food displayed on it. In short, a high end quality buffet station.
Then, while on holidays with his family in the Canary Islands, he was struck by the buffets he saw in a hotel there. It was just what he had long been looking for.
He did not hesitate, he took note of the buffets manufacturer and said "I also want a King's Buffets".
He could not wait to get to Norway, then he browsed on our website and contacted us for a customized buffet proposal for his hotel. As there was a convenient direct flight from his town to Malaga, we also arranged an appointment in our facilities in the Costa del Sol.
Once here, it only took about 5 minutes to understand each other and to know precisely what solution was needed.
It has been almost 3 years now, that first buffet was a Design State series unit, our star product and flagship model comprising a hot and cold countertop in one piece and supported by a single foot, looking like the food is floating in the air.
The experience was so satisfying, having met all the expectations, that this year he decided to purchase a second buffet for another of his hotels. Featuring similar characteristics but in a different design to match the style of the restaurant, now it was the recently released FR series, which in addition to being mobile like all our buffets, comes with backlit plate holders at the front.
Both buffets are also fitted with RGB LED lights with remote control all around their perimeter.
And that's how it all started with our friend Morten. We now wanted to pay him a visit and personally see that everything was in perfect working order.
We want to thank him not only for the trust placed in King's Buffets from the very beginning, but also to congratulate him for the excellent presentation of the food, how much he pays attention to details, how well he takes care of the buffets even though they just need a simple, minimal maintenance, and how he has followed our advice for a good use to highlight such presentation.
THANK YOU MORTEN !!!