Gran Hotel del Coto: 25 years trusting King's Buffets
The Gran Hotel del Coto de Matalascañas launches new installation of buffets and show cooking for specialty of Italian food.
Today's blog we want to dedicate to them as an example to follow and how to feed 1,000 people with the most hygienic and resistant buffets equipment, as well as the design made so that the service is carried out in the shortest possible time, with the maximum fluidity and comfort, avoiding waiting queues and therefore, getting the best performance for this installation.
Of course and most importantly, it is to thank them for the trust they have always placed in King's Buffets during this long journey. It's been 25 years since we started working together and this is the fifth facility that they entrust us with. Therefore, they have become one of our most loyal customers.
For this reason, we want to make a record of your entire trajectory and with current images, also to show you the evolution of all these years and show them the durability of our buffets since most of them are still in operation and with an impeccable appearance and care.
Year 1993 (25 years ago): Large static U-shaped buffet with all integrated services. Formerly the replacement was inside since the cold and hot replacement was in cameras under the buffet.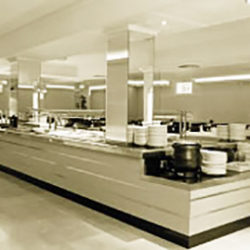 Year 2000 (18 years ago): Enlargement. 2 cold buffets, 2 hot buffets and 2 dessert buffets for Marismas and Alhambra restaurants. All of them mobile and of the Z Series.CURRENTLY CONTINUED IN OPERATION.
Year 2006 (12 years ago): Evolution. A Renove Plan is made of the installation 25 years ago and is replaced by 2 large central cold buffets of the Design State Series, 1 large island of desserts of great capacity of the FR series and a huge international show cooking of the same line, with all the hot integrated on both sides symmetrically.The big change is significant, we get the service to be continuous and without shifts, the dining room has better fluidity for the traffic of diners, in less space we give double the variety, the technology is improved and therefore the presentation of food.CURRENTLY CONTINUED IN OPERATION.
Year 2007 (11 years ago). Extension to improve the service with a show cooking installation of the Z series to complement the equipment of the year 2000CURRENTLY CONTINUED IN OPERATION.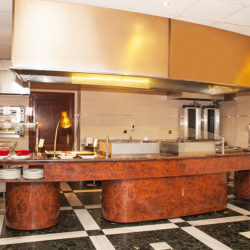 Year 2018. Recent installation of a hot buffet and show cooking specific to the F series. A space is enabled in the main dining room to improve the service even more and create the specialty of Italian food. In addition, the old installation is extended with a small hot buffet from the Modular series.