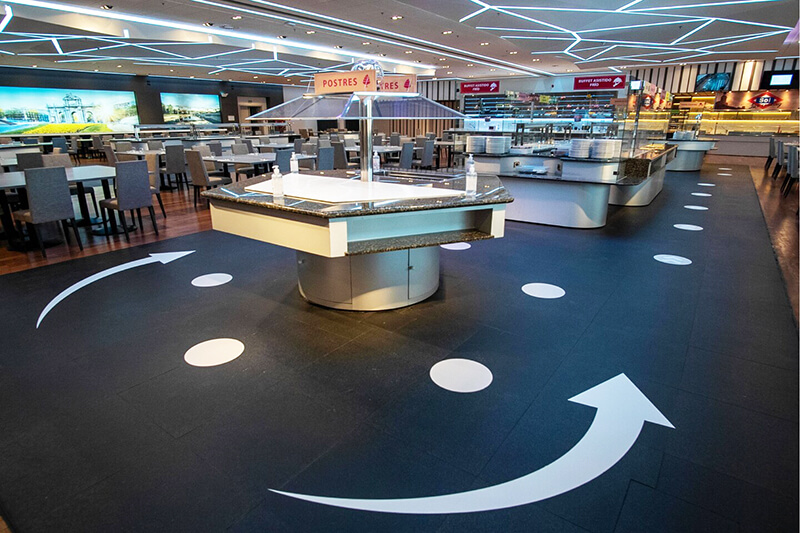 The Madrid Marriott Auditorium Hotel will re-open on September 1st, in a new environment where cleanliness and hygiene will be a focus for travelers. The hotel is working to adapt each of its spaces and services to the new conditions required by the Institute for Spanish Tourist Quality (ICTE) and the cleanliness protocols and guidelines recently announced by Marriott International for its hotels globally.
Different and sophisticated restoration areas with various atmospheres offer you a choice of the best space to adapt to your needs.
The Madrid Buffet, located on the ground floor at the main prefunction of the Madrid Marriott Auditorium Hotel & Conference Center is a large and wide area up to 800 people where you will be able to savour a high variety of international and healthy food.
It has a macro installation of buffets of King's Buffets very varied: central buffets of cold and heat, cold islands of desserts, neutral islands of breads, liquid stations and a great show cooking with integrated hot. These buffets have already been over 18 years old, are still working at full capacity and have adapted to the new normality without having to make any investment in the main restructuring of the equipment.
Everything remains as it is and only a new configuration has been designed that includes front protection screens, eliminates non-essential elements and offers a wide variety of food and beverages in single-dose format. All the service goes on to be assisted, offering facilities also to maintain the safety distance, marking on the ground an easy itinerary to avoid crossings between customers. The spaciousness of the dining room also creates a great advantage to feel safer. Cleaning will also be deeper and more frequent.
A concept they have created of "less contact but more connection" thanks to the use of mobile technology through the new Marriott Bonvoy app.
We want to share with you this spectacular video that the hotel has published and that explains this new concept in the company in a very attractive way.
Congratulations on Marriott and wish you the greatest success!