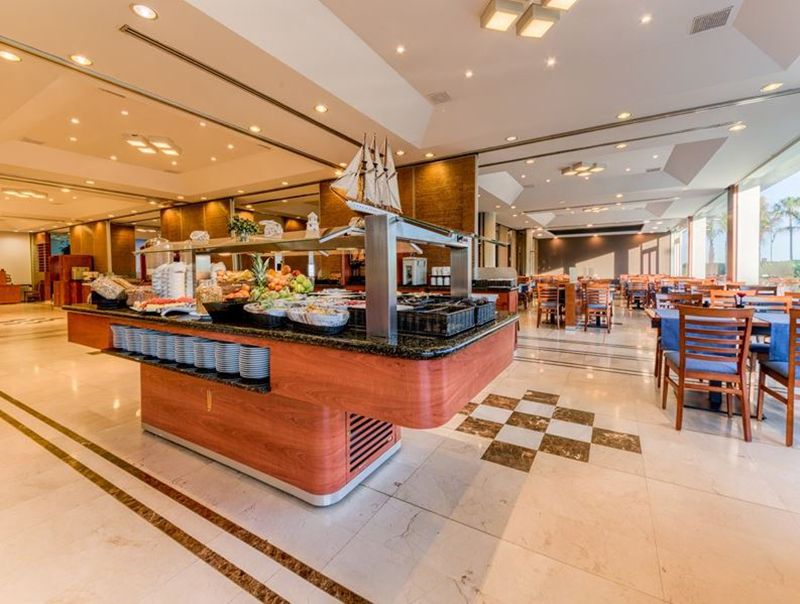 Hotel Puertobahía adapting its buffets Covid Free
Since the hotels opened in recent weeks, we have been showing examples of the different ways to adapt King's Buffets buffets to the new normal and we will continue to do so.
There are those who have incorporated our new system of air curtain with ozone to provide greater security, there are those who have decided to attend the buffets incorporating front windows to prevent access, there are those who have left the buffets as they were and have created an orderly circuit in turn with a hygienic guide for use with gel and masks. There are also that have left the buffets as they were and have made presentations in single dose for cold and/ or heat suppressing the tongs and avoiding the manipulation of food, there are hotels that have done it in a mixed way or combining some of these solutions.
In the case of the Puertobahía Hotel in Cadiz, they have relocated their mobile central buffets creating an orderly circuit of buffets in a single sense, assisting the customer. To do this, it has incorporated front windows to prevent access to food and has incorporated a/inox railings in buffets to give a classic service to the self – service style. The client accesses the buffet, having previously used hydro-alcoholic gel and use of masks as well as keeping the safety distance, with its tray to serve both incoming, hot and desserts as desired, at one time to avoid too many trips and thus speed up the service, although if you want to repeat, you can do it again by starting the circuit.
It is another option to consider for greater comfort of both the customer and the staff.
With all these different solutions, we reaffirm, as we said at the time, that hotels without buffets are not viable.
Our eagerness in these months of confinement has been none other than to provide ideas, from our experience, contribute to the search for the best possible solutions and help professionals in the sector to make the best decisions for the good of their customers, their employees and their own business.
We insist saying Never Goodbye to the buffet as they appeared in some absurd news, but rather Hello to the buffet more than ever, for safety and responsibility.