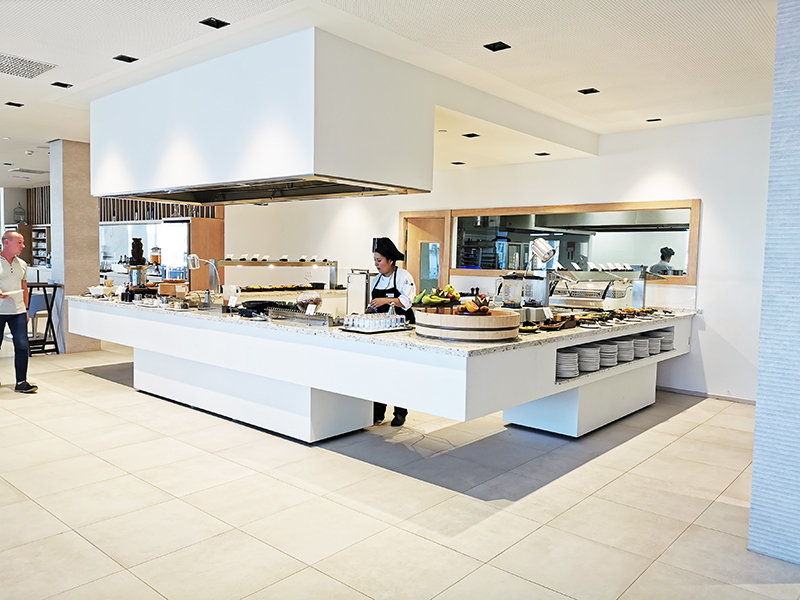 We incorporate news and maximum technology in buffets for the Lava Beach Hotel in Lanzarote
This elegant hotel with modern design that belongs to the Hibiscus Hotels chain, has opened its doors last December. It has 154 rooms and is located on the Playa de los Pocillos.
Hibiscus Hotels already has 4 hotels to its credit, one with category 3 stars, two with 4 stars, and the latter, Hotel Lava Beach, with category 5 stars. All of them on the island of Lanzarote.
We are very proud to have collaborated with Hibiscus Hotels for this new hotel in particular because in addition to having made a complete installation with buffets, show cooking and various accessories, we have been able to incorporate some new features and make different configurations in our FR Series, always with our state-of-the-art systems and maximum hygiene.
This installation consists of a large U-shaped show cooking with the cooking elements in the center (griddle, grill and fires) and each side with hot granite counters, top heat and hot silvers underneath. Within the show cooking we incorporate support elements, such as the refrigerated work area and hot catering carts for a comfortable and efficient replenishment.
In the center of the restaurant there are two mobile double cold buffets, double gastronorm capacity and independent double frost with double antifog protection screen, one for cold starters with special descent for soups and the other for desserts. Both incorporate to the center, between a frost and another, a double neutral height in granite for decoration and for foods that do not need refrigeration.
In several areas and ends of the restaurant there are neutral islands support murals for breads and liquids decorated according to our buffets.
The presentation of food is excellent as well as some of the elements they use are very original, methacrylate waterfalls for desserts, fruits, honey panels, juice exposition, milk, cereals, special bases for salad bowls, cakes, pods, and much more.
We thank Hotel Lava Beach for the trust placed in King's Buffets and the opportunity they have given us to expose all our best work with this set of buffets.
We wish you the greatest success.