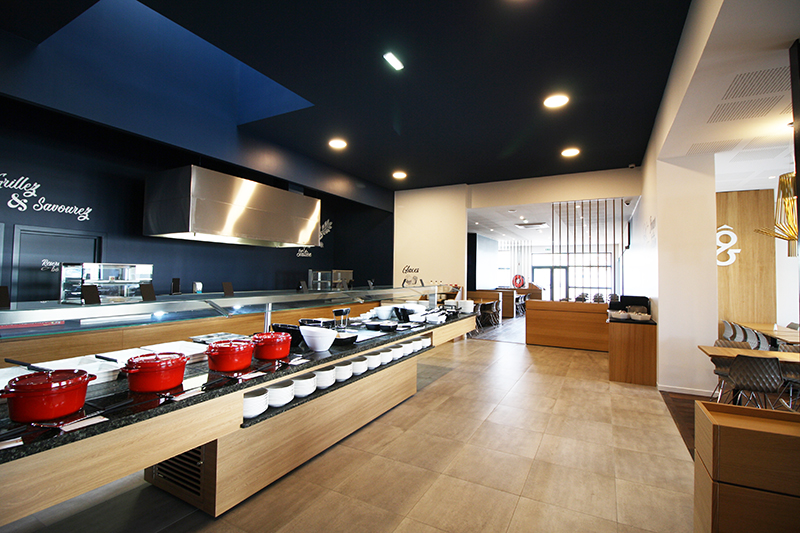 So easy comes and installs a King's Buffets anywhere in the world
On numerous occasions we have talked about how easy and simple it is to install a buffet of King's Buffets despite the robustness and dimensions of our products.
Today in our blog we want to emphasize and also show it with a graphic example in a buffet of 6 meters and a half in length.
It is the Mobile F Series buffet, with capacity for cold and heat, recently installed in the Restaurant Ô tour du grill located in the city of Colmar, France.
In a simple maneuver of less than 20 minutes, our trailer was located near the access entrance, the customer provided a crane to pick it up and download it. Once on the ground, simply roll up to enter the restaurant and place it right where the customer has previously prepared the electrical connection. It connects, the fragile elements are put as they are the crystals and ready. It turns on, checks and then is ready to give the service if you wish.
All our buffets are already factory tested and arrive at your facility ready to connect.
We want to thank Marc Tong for the trust placed in King's Buffets and all his team at the Ô tour du grill restaurant for their excellent collaboration and also to congratulate him for the great success in choosing the buffet and decoration model chosen as they know is personalized and integrates perfectly in the decorative environment of the premises as you can see in the following images. "In simplicity is the taste". We wish you the greatest success in this new business !!
Video of the restaurant and the new buffet installation