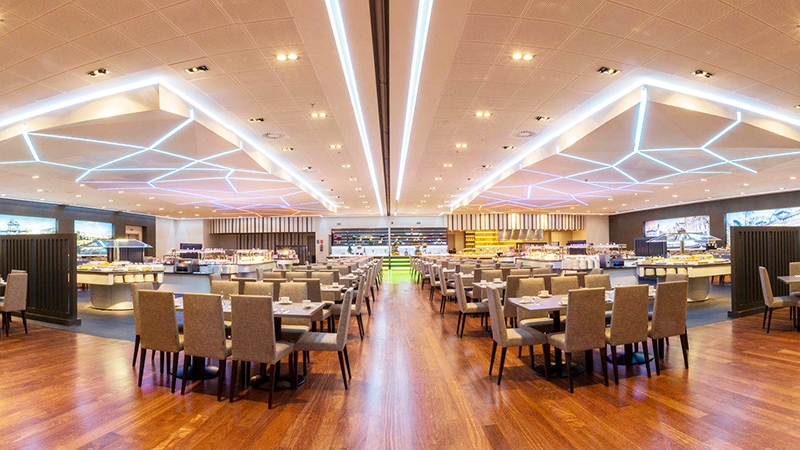 The Buffets of the Auditórium Hotel of Madrid turns 16 years at full capacity
This month marks the 16th anniversary of the installation of the largest buffets and show cooking for a city hotel, currently managed by the Marriott chain for more than two years, being their biggest hotel in Spain, counting with 869 rooms.
Today's blog we want to dedicate to them as a great example to follow for the impeccable care during all these years and in the perfect state both aesthetic and functioning in which they are currently buffets, despite the fact that they spend hundreds and hundreds of people daily.
It is clear that decorative trends change but it is essential to emphasize the importance of the materials used are of the highest quality, robust and solid steel structures that guarantee a long durability, resistance and prevent the proliferation of insects and bacteria, such as it is in the case of wooden or construction structures. If in addition, the technology is by contact and of last generation, the food will be well preserved and exposed with maximum hygiene and therefore, thus gaining a better presentation. Finally, as mobile buffets, when remodeling is done in the dining room or in the hotel, as has been the case recently, buffets are not condemned in the same place and can be moved easily.
Hence, let's say, that investing in King's Buffets equipment is an investment "for life."
In the photos we show you will see buffets that are 16 years old and are updated with a minimum investment. For this it is only necessary to put another decorative sheet, vinyl or a lacquer on the same structure. The countertops, chassis, screens, cold and heat equipment and the design remain the same.
The Result: A modern look and in keeping with the new decoration of the Restaurant.
Congratulations!!
*Soms Photos from the website of the Hotel Madrid Marriott Auditorium.