The design of King's Buffets' products is the result of years of research and development aimed at satisfying the needs of the hospitality industry in terms of hygiene and practicality. The demands of our customers have stimulated us to produce buffet tables that meet the expectations of the most demanding professionals.
What we considered yesterday as a novelty, today it is something that we have definitely overcome. At King's Buffets we are ahead of our competition and today we can offer you the buffet of tomorrow.
MOBILE BUFFETS
Last century's buffet tables were solid, built with wood, bricks or fabrics, making them unhygienic.
However, our buffet tables are mobile, with hidden wheels, where a single person can move them easily. This not only eases the cleaning of both the equipment and of the floor area, but also allows the possibility of changing the layout of the dining room to the different circumstances and number of guests, modifying also the decoration of the room, or having an outdoor dining room, weather permitting. They are ideal for attaining a multipurpose dining room that can change easily and adapt perfectly to any requirements.
CAPACITY OF DINNERS
With the different models and designs our catalogue offers, we can fit a room for 100 diners to a room for more than 2,000.
We also have buffet tables and buffet sets for city hotels that only offer breakfast, or for halls where all of a sudden you have to serve coffee, or a brunch or a banquet.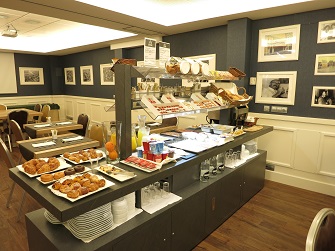 DOUBLE WAY OF ACCESS AND CAPACITY
Our buffet tables are equipped with twin track access and double capacity.
The two-sided access of large central buffet tables and island-shaped ones placed in the centre of the room, allows quick and easy access to food for both customers and employees on both sides of the table. This doubles its capacity, saves space and accelerates the whole process of replenishing food by the waiters in the establishment (restaurants, hotels, rooms for events, cruises, …) and therefore, providing a better service.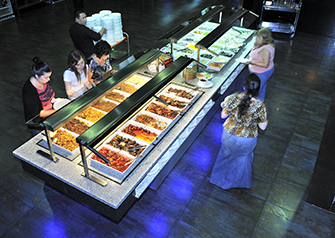 COLD AND HEAT TECHNOLOGY
Another important feature of our buffet tables is our cold frost and hot contact technology.
In the past and even today, other manufacturers continue using the gastronorm containers and bain-marie, something that we do not recommend, not only for hygiene and installation but also because when displaying food it is restricted to that container.
We ceased doing it some years ago with a few exceptions due to customer's demands. We always incorporate the technology of cold and hot contact in order to achieve the highest level of hygiene, versatility and better display of food.
The cold frost contact system is an exclusivity of King's Buffets and unlike other solutions, it does not have connections and the frost intensity is spectacular.
This solution revolutionised the concept of buffet tables by providing a quality appreciated by customers of hotels, restaurants and rooms equipped for high standard events.
The hot contact system enables the use of any type of container in order to guarantee the adequate maintenance of the temperature of the food in the buffet. But, in addition, so there is no doubt as to its effectiveness, we have incorporated heat in the top part by means of ceramic resistances to create a uniform heat on all sides.
With this type of technology, you can use any type, shape and size of container, which will undoubtedly increase the exquisiteness of the food displayed.
ACCESSIBLE BUFFETS
Finally, we would like to indicate that most of our buffet tables are adapted for people with reduced mobility in wheelchairs. Due to their design, they can easily access the food on display.