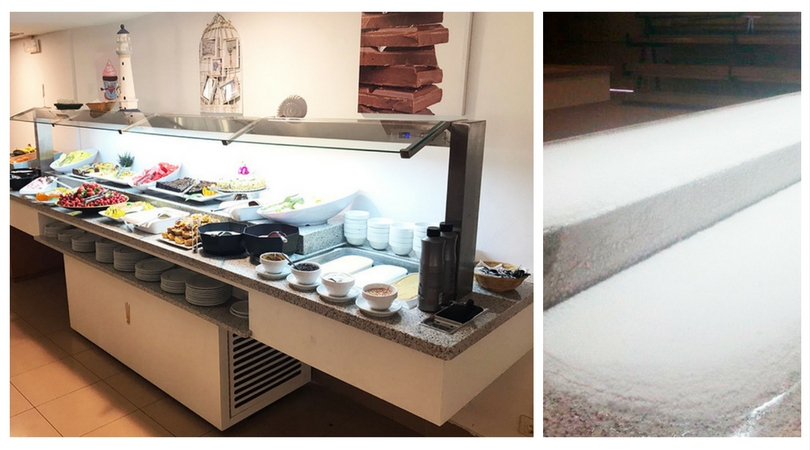 Buffets double cold height in the countertops
From time until now, they have become fashionable and they ask us to put in the buffets the double cold frosty height.
King's Buffets also manufactures with this modality when the client demands it and it is not possible to be carried away by our best recommendations.
In today's post we want to talk about the drawbacks of this modality since it leaves our philosophy of manufacture, total hygiene and presentation. Are these:
1.- CAPACITY AND PRESENTATION.
It is not true that by making a double cold height we thus gain greater ability to expose food in the buffet, because in short, the surface is the same and is only divided into two parts, that is, in two heights.
The biggest drawback is that in doing so, the size of the container will be limited to a measurement that will be medium (if we speak in gastronorm measure and in buffets murals) or lower than this and we will not be able to give a better and different presentation with large containers or elongated, which are now also so fashionable.
Do not forget also that having a double fixed height can be uncomfortable for the diner because having food protected with anti-fog screens at a statutory height by sanity, access to them is less easy.
King's Buffets recommends taking advantage of the entire surface to give a greater polyvalence in the presentation and create a double height but with shelves or moving elements, which can be even of the same material as the worktop, since every day may be different exposure let's do.
In addition, we use to put foods that need to be fresh but not refrigerated at a low temperature like the rest, such as: some cakes and pastries, cheeses, ham,…
2.- TOTAL HYGIENE AND MANUFACTURE.
As we have been saying for many years and in our desire to manufacture with the maximum possible hygiene, King's Buffets worktops do not have joints, unions, nooks and drains where they are completely smooth, no food or dirt can accumulate.
The countertops with double height frostbite obviously breaks with our philosophy and although we do it in the best way possible, it is inevitable that there are joints together.
3.- PRICE.
In addition to all of the above, it is also clear that manufacturing in this way entails a higher cost because it is not the same to make a single cold circuit at the same level as two independently, and that will also influence the shape and design of the buffet structure.
That said, we insist that King's Buffets can tailor all their buffets and do so at the request of each client, but it is our duty to give our best recommendation before making any decision since we want our buffets to be multipurpose and above all, functional.
We leave some examples of some of our customers with the presentation of food in a double height that is mobile.
We hope you like it, agree and for any clarification, we remain as always, at your entire disposal.