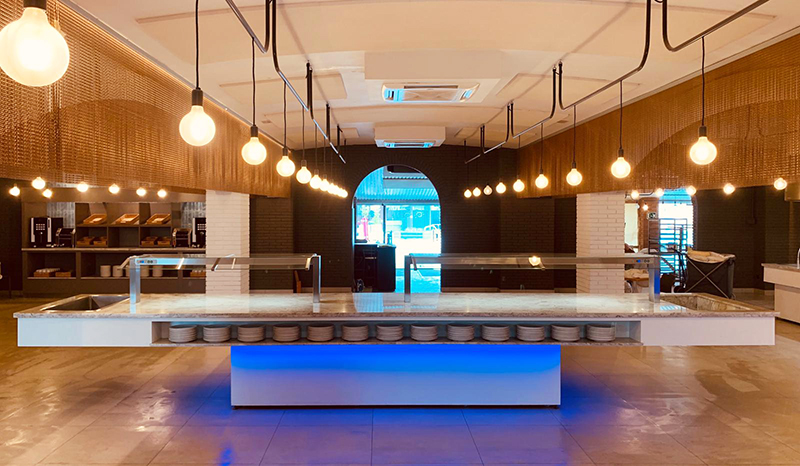 The Hotel Voramar in Cambrils opens its doors next Saturday 4th of July with new buffets
Grup Arbó, which has 5 hotel complexes: Hotel Port Eugeni, Complex Voramar, Aparthotel Olimar II, Apartments Ocea and Apartments Port Cambrils, starts soon its summer season.
It does so first with the opening of the Voramar Complex on Saturday, July 4, and the rest of its complexes on August 1.
Despite all the circumstances that have occurred in these months, the Arbó Group in its desire to improve every season, began last year a strong investment in the refurbishment of the restaurant Voramar and in the rooms of two of its complexes and has continued working hard to finish all the works that were planned despite all the uncertainty created, to offer to all its clients improvements in materials, novelties in designs and new equipment of buffets with the maximum hygienic guarantees – sanitary and safety.
In addition, it has implemented all post Covid measures to make the stay of its clients 100% safe.
In the restaurant, you can enjoy this weekend the new buffets and show cooking with a new style. It has a central buffet of large dimensions, with frosted cold technology and double access. The hot ones are offered in a very personalized way, on the one hand they have an international show cooking with plates for meat and fish made at the moment and varied hot exposure, and a special hot buffet for pastas, pizzas and rice dishes, with a multi-purpose carvery and carving area. All this also with contact heat technology. All neutral areas for breads, toasters and liquids are collected in two large very elegant furniture located in different strategic areas of the dining room for customers to comfortably access.
Until everything returns to normal, the service will be given with some variations, all adapted circumstantially to the sanitary recommendations and protocols for the Hotels, always in favor to offer the maximum guarantees to its clients.
We leave you with some photos of the day of the assembly of the new buffets and soon we will hang the best in presentation of the entire restaurant.
To the Arbó Group we wish you the greatest success in this new hotel stage and we warmly thank you for the trust placed in King's Buffets at all times.