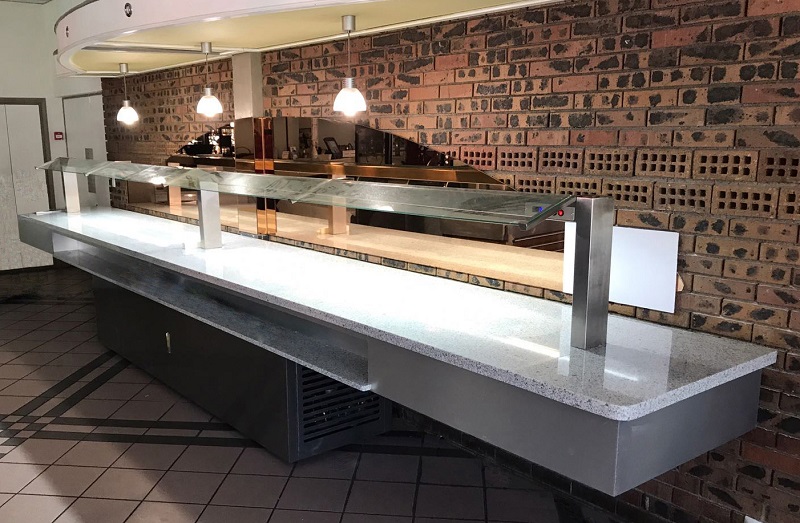 F Series buffets have also become fashionable in France
The Hotel Escatel de Macon – France, has relied on King's Buffets for the remodeling of its cold buffet.
The model chosen for the change has been the one of the Series F. A buffet of mural of 6, 5 meters with two frost-free zones of independent and that can be graded with different temperatures depending on the foods that are going to expose, with a zone Wide to place the dishes in the front and be easily accessible for diners, without having to have any auxiliary furniture occupying more space in the room as previously had.
In addition, this buffet is also mobile to facilitate the cleaning or else place it elsewhere for other services. And the best thing is its low consumption and connection, that you only need a 220v electrical outlet without having to make water and drainage installations, because this buffet is air-cooled.
The buffets of King's Buffets comply with all hygienic-sanitary and safety regulations and have the highest certifications worldwide, NSF and ETL.
The photo we leave is the day of delivery and installation, which could be done in the simplest way, and in just a few minutes was downloaded, plugged in and was working to be able to use it in the next service. That easy!
King's Buffets has made hundreds of facilities in the French market, and is not only specialized in Asian catering, but also in hotels, from the smallest and city, to a medium one as the example that We left and even the biggest with all inclusive category.
We would like to thank the Hotel Escatel for not hesitating to bet on our brand, we hope it goes well and we were impatient to see photos of the presentation of food in this new buffet and with a different technology and novel for them.