On November 7, the emblematic Pez Espada Hotel in Torremolinos located on the Costa del Sol, which manages the MedPlaya hotel chain, completely renovated its buffet facilities and for this it has entrusted the project to King's Buffets.
The new installation has consisted of an integral central buffet with all the hot and cold services made to measure surrounding the central pillars of the restaurant, renovation of the restored Show Cooking and in accordance with the design of the new furniture as well as several auxiliary neutral buffets for the bread and liquid stations.
On this occasion we have incorporated new materials that have been satisfactorily tested in our factory for our contact technology. The property chose Dekton Albarium material for the countertops and natural herringbone wood from Finsa for the front decoration. All this, together with the new designs of King's Buffets with a system of screens and hanging spotlights, have given an elegant as well as innovative result.
Despite the great difficulties in removing the old facility (demolishing part by part), customers finished the breakfast service with the old furniture and at 7 pm on the same day, they enjoyed dinner at the new buffets. Once again Kings Buffets fulfills its commitment to install in the shortest possible time thanks to the ease of setting up all its furniture, given that the furniture has been thoroughly tested previously in the factory, and that they are mobile parts that arrive at the hotel. ready to assemble and connect.
Our utmost gratitude to the MedPlaya chain for continuing to trust us and for its collaboration during the assembly, and to Azora for giving us this opportunity to set up such an emblematic hotel in our land.
9:30 Clientes desayunan en el antiguo buffet
11:00 Cierre definitivo del antiguo buffet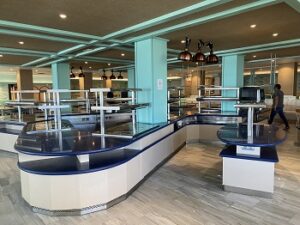 12:00 Demolición por partes antiguo buffet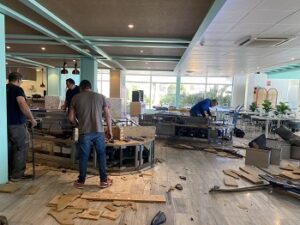 13:30 Comienzan a entrar los nuevos buffets
14:20 Ensamblando los buffets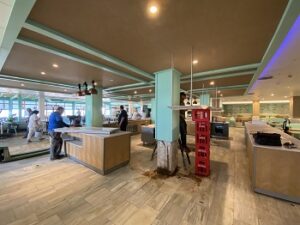 17:00 Ultimando detalles
17:30 Preparados …
18:00 Listos …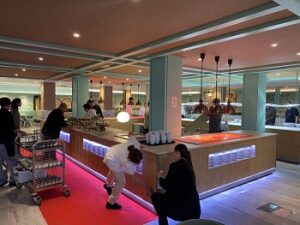 18:30 y ya ¡!